Durand Is the Cadillac Dealer for Leominster, Fitchburg and Worcester, Massachusetts
Important Information
1. Must be a current lessee of a 2018 model year or newer GM vehicle through GM Financial or Cadillac Financial or a current lessee of a 2018 model year or newer non-GM vehicle for at least 30 days prior to the new vehicle sale. Payments are for a 2023 CT5 Luxury with an MSRP of $39,590. 39 monthly payments total $19,071. Closed-end lease. Option to purchase at lease end for an amount to be determined at lease signing. Cadillac Financial/GM Financial must approve lease. Take new retail delivery by 7/05/23. Mileage charge of $.25/mile over 32,500 miles. Late payment and early termination fees apply. Lessee is responsible for insuring the lease vehicle. Lessee pays for maintenance, repair, excess wear and disposition fee of $595 or less at end of lease. Not available with some other offers. Residency restrictions apply. © 2023 General Motors. Cadillac Financial and the Cadillac logo are trademarks and/or service marks of General Motors LLC, used with permission. Cadillac Financial is a division of GM Financial. All Rights Reserved. Cadillac® CT5®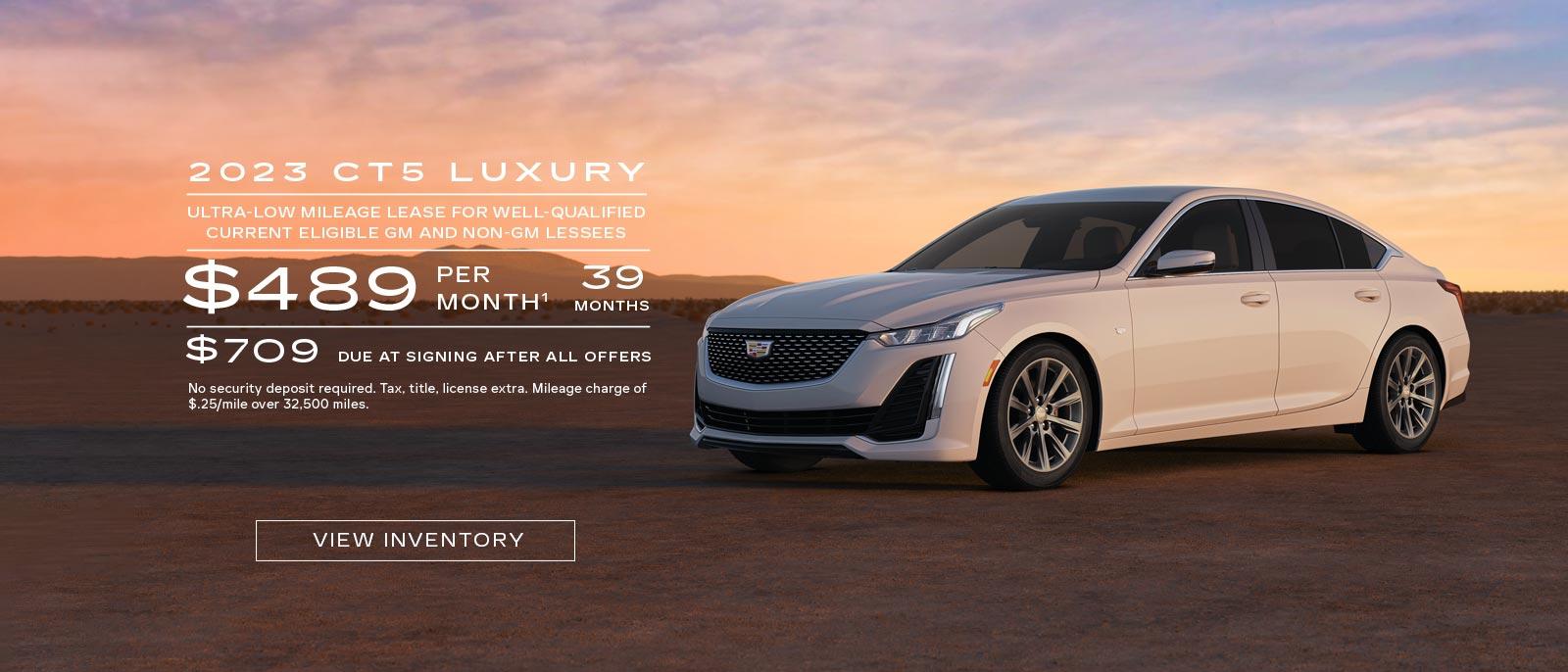 Important Information
1. Must be a current lessee of a 2018 model year or newer Cadillac vehicle through GM Financial or Cadillac Financial for at least 30 days prior to the new vehicle sale. Payments are for a 2023 XT4 Luxury with an MSRP of $37,490. 36 monthly payments total $13,644. Closed-end lease. Option to purchase at lease end for an amount to be determined at lease signing. Cadillac Financial/GM Financial must approve lease. Take new retail delivery by 7/05/23. Mileage charge of $.25/mile over 30,000 miles. Late payment and early termination fees apply. Lessee is responsible for insuring the lease vehicle. Lessee pays for maintenance, repair, excess wear and disposition fee of $595 or less at end of lease. Not available with some other offers. Residency restrictions apply. © 2023 General Motors. Cadillac Financial and the Cadillac logo are trademarks and/or service marks of General Motors LLC, used with permission. Cadillac Financial is a division of GM Financial. All Rights Reserved. Cadillac® XT4®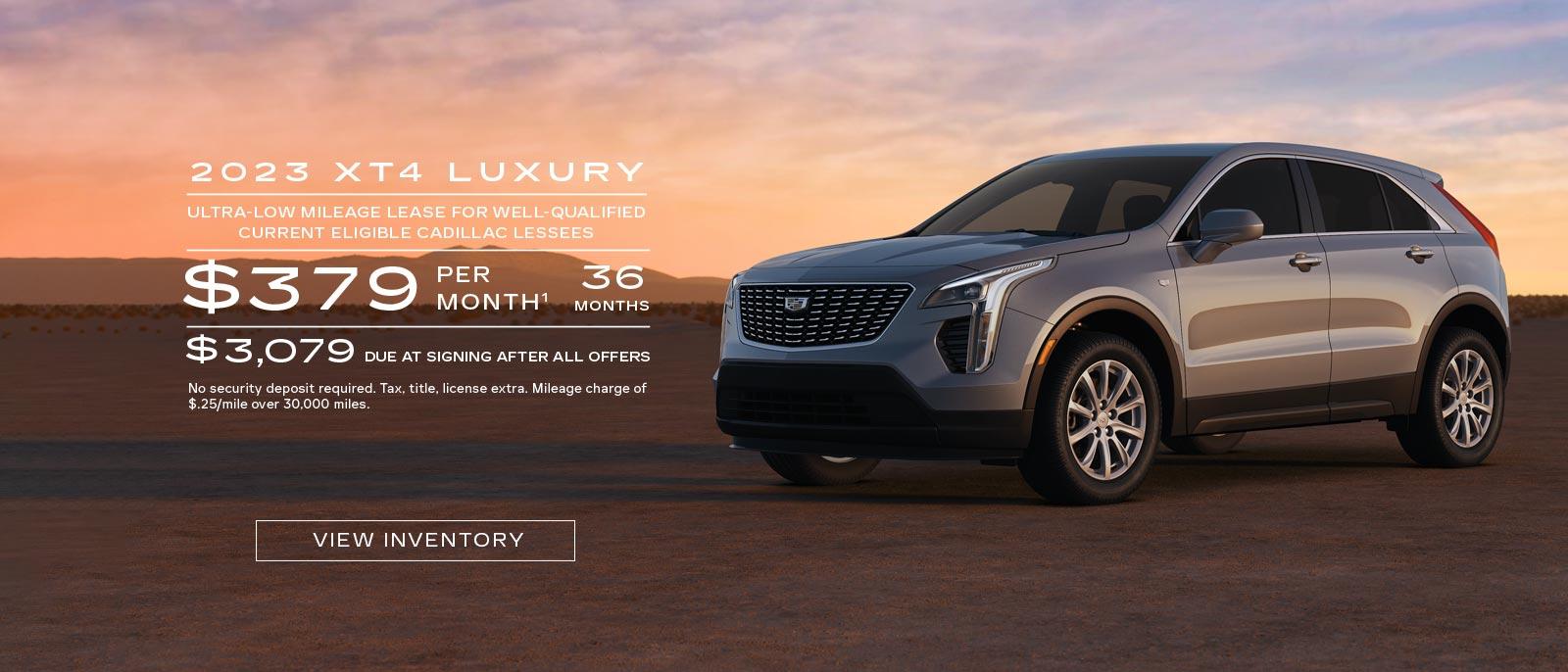 Important Information
1. Must be a current lessee of a 2018 model year or newer Cadillac vehicle through GM Financial or Cadillac Financial for at least 30 days prior to the new vehicle sale. Payments are for a 2023 XT5 Luxury with an MSRP of $45,590. 39 monthly payments total $17,901. Closed-end lease. Option to purchase at lease end for an amount to be determined at lease signing. Cadillac Financial/GM Financial must approve lease. Take new retail delivery by 7/05/23. Mileage charge of $.25/mile over 32,500 miles. Late payment and early termination fees apply. Lessee is responsible for insuring the lease vehicle. Lessee pays for maintenance, repair, excess wear and disposition fee of $595 or less at end of lease. Not available with some other offers. Residency restrictions apply. © 2023 General Motors. Cadillac Financial and the Cadillac logo are trademarks and/or service marks of General Motors LLC, used with permission. Cadillac Financial is a division of GM Financial. All Rights Reserved. Cadillac® XT5®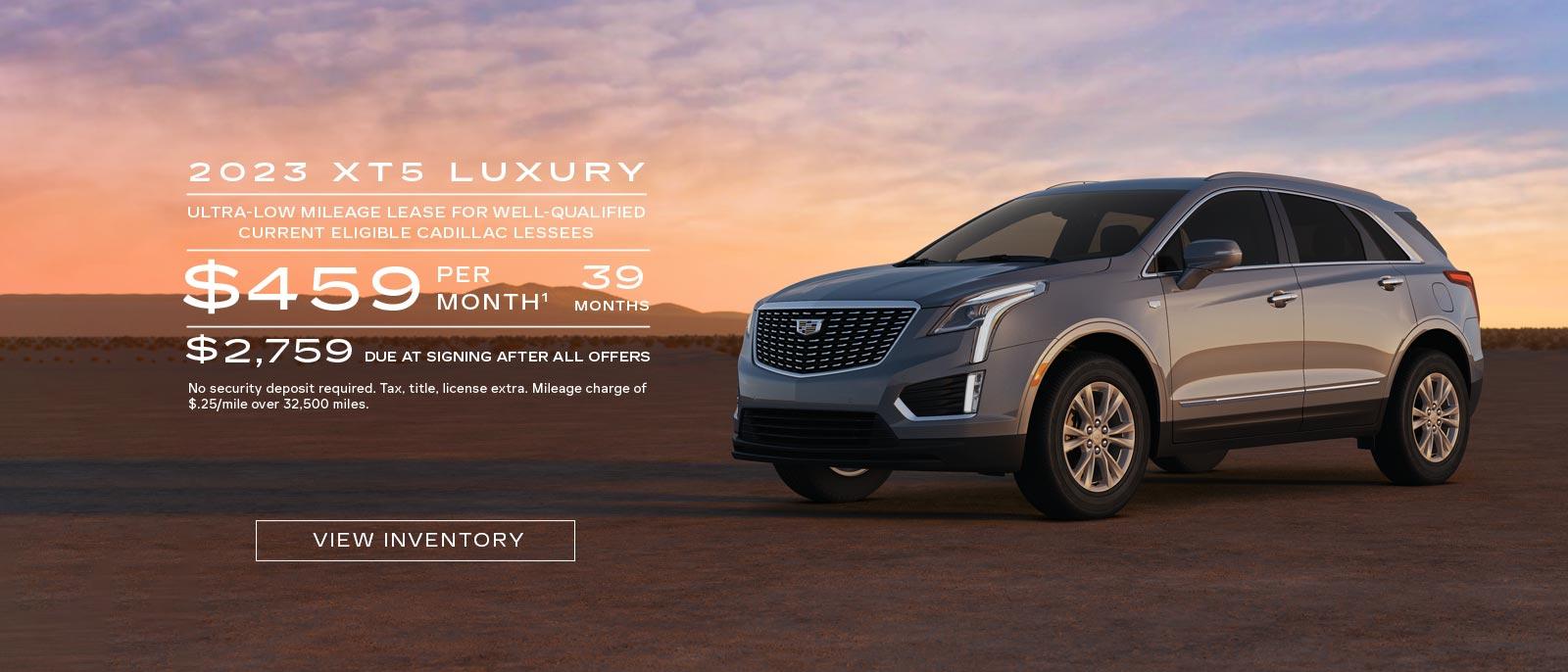 Important Information
1. Must be a current lessee of a 2018 model year or newer Cadillac vehicle through GM Financial or Cadillac Financial for at least 30 days prior to the new vehicle sale. Payments are for a 2023 XT6 Luxury with an MSRP of $49,990. 24 monthly payments total $11,016. Closed-end lease. Option to purchase at lease end for an amount to be determined at lease signing. Cadillac Financial/GM Financial must approve lease. Take new retail delivery by 7/05/23. Mileage charge of $.25/mile over 20,000 miles. Late payment and early termination fees apply. Lessee is responsible for insuring the lease vehicle. Lessee pays for maintenance, repair, excess wear and disposition fee of $595 or less at end of lease. Not available with some other offers. © 2023 General Motors. Cadillac Financial and the Cadillac logo are trademarks and/or service marks of General Motors LLC, used with permission. Cadillac Financial is a division of GM Financial. All Rights Reserved. Cadillac® XT6®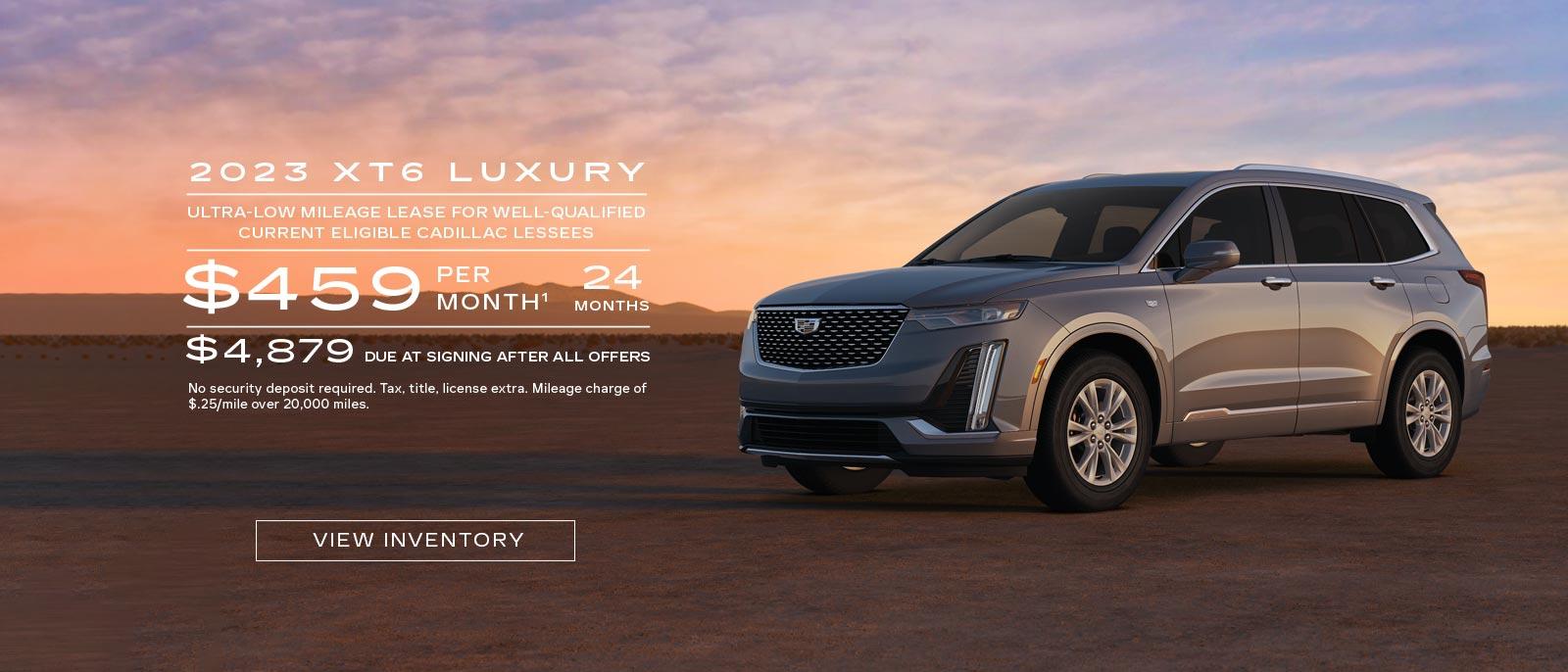 Important Information
1. Must be a current lessee of a 2018 model year or newer GM vehicle through GM Financial or Cadillac Financial or a current lessee of a 2018 model year or newer non-GM vehicle for at least 30 days prior to the new vehicle sale. Payments are for a 2023 CT4 Premium Luxury with an MSRP of $40,690. 36 monthly payments total $14,004. Closed-end lease. Option to purchase at lease end for an amount to be determined at lease signing. Cadillac Financial/GM Financial must approve lease. Take new retail delivery by 7/05/23. Mileage charge of $.25/mile over 30,000 miles. Late payment and early termination fees apply. Lessee is responsible for insuring the lease vehicle. Lessee pays for maintenance, repair, excess wear and disposition fee of $595 or less at end of lease. Not available with some other offers. Residency restrictions apply. © 2023 General Motors. Cadillac Financial and the Cadillac logo are trademarks and/or service marks of General Motors LLC, used with permission. Cadillac Financial is a division of GM Financial. All Rights Reserved. Cadillac® CT4®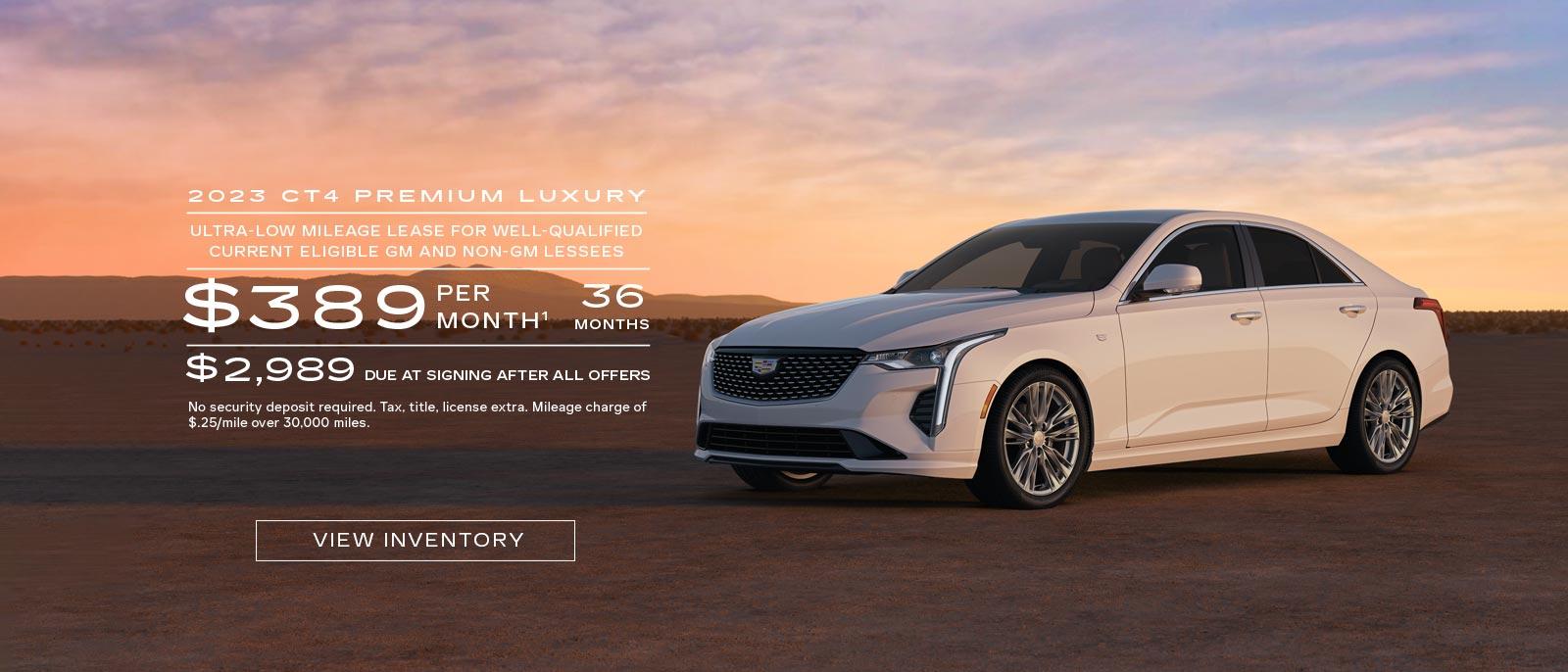 Important Information
Simulated model shown. Actual production model will vary. See dealer for 2024 LYRIQ availability details.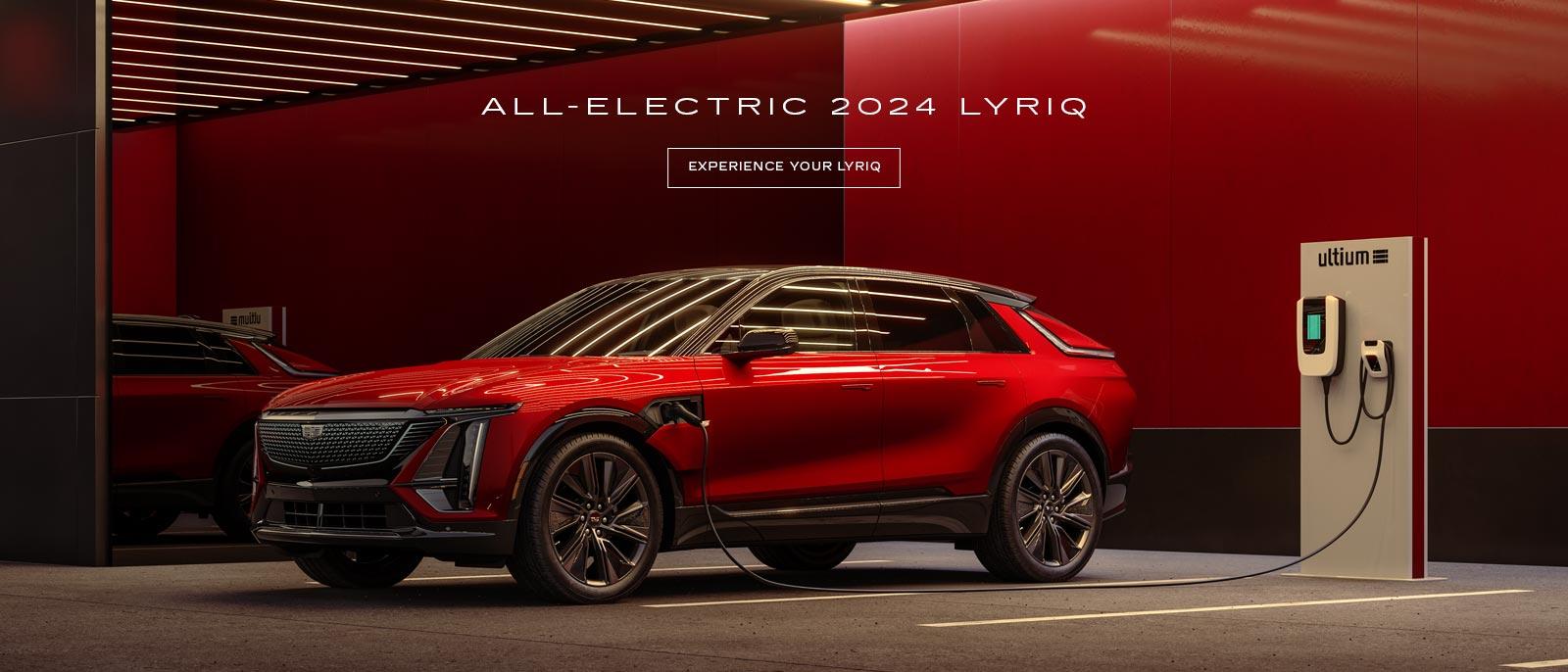 Important Information
*Where allowed under state law.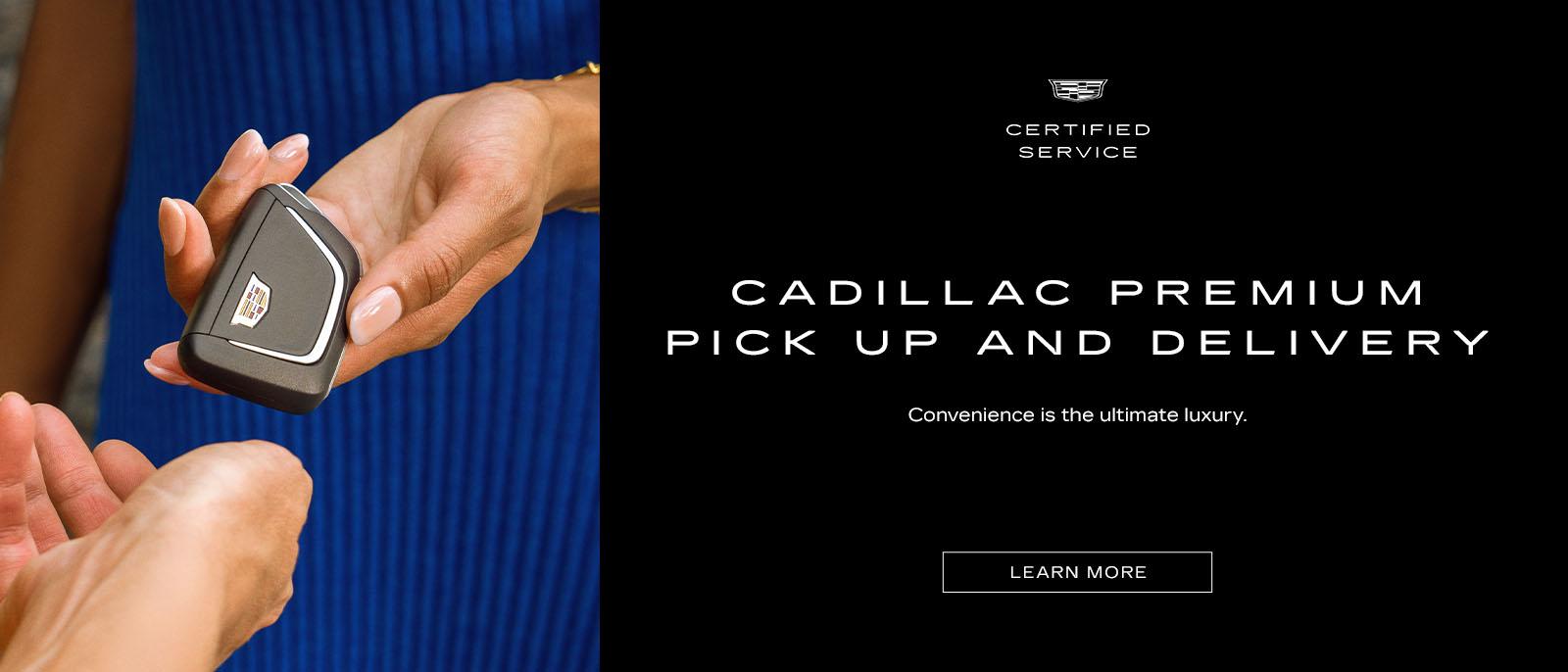 A Great Selection of Used and Certified Cadillacs for Northern Worcester County
We offer only quality pre-owned and certified Cadillac models, and they're priced to sell. All our used vehicles undergo a 117-point inspection before we put them up for sale, and they also come with a warranty and an auto-check certified history.

If other Cadillac dealers near you do not have the models and prices you are looking for, search our inventory. And if we don't have what you're looking for, let us find it for you (at no additional cost).